a conversation with NILS EEKHOFF
The Cycle Sierra Nevada Scholarship Program was developed as a way to sponsor young cyclists that may not have opportunity or financial capacity to avail of a cycling training camp. In this section we take 5 minutes for a quick chat with one of the applicants selected for the 2016 program.
NILS EEKHOFF - THE NETHERLANDS
Who are you?
I'm Nils Eekhoff and a U19 cyclist from the Netherlands.
What team do you ride for?
I currently ride for UWTC De Volharding - Wilton Cyclingteam.
Why did you start cycling?
My grandfather and father always watched cycle races. After I quit judo I decided to start racing. Cycling wasn't a success at the beginning, I broke my collarbone at my second ever training session. However, I refused to give up and that same year I won my very first race.
Have you any other sporting backgrounds?
I started Judo when I was seven years old.
What types of cycling do you do and what do you enjoy about each?
I think there isn't much that i don't like about racing. I like time-trial, the race against the clock, the race against yourself. I think that it is the fairest type of racing because every single rider has to give his all. Also the classics, they all have their own beauty, the cobbles and the wind, it is always a spectacular race. And then there is climbing which I like very much, I just like mountains and the views you get there. It just suits me very well. And in the winter I do track racing and for the fun some cyclo-cross.
How many bikes do you own?
I have six bikes; 2 racing bikes, 1 time trial bike, 1 track bike, 1 cyclo-cross bike and a mountain-bike.
Favourite piece of cycling equipment/kit?:
I love my Specialized bikes with Shimano. I started out with Campagnolo but then I got a bike with Shimano and I was immediately in love.
Your greatest achievements on a bicycle?
Dutch Champion Derny on the track
2 wins in Dutch Classics 2015 as first year junior
Second in the last stage of Tour du Pays de Vaud (N.Cup)
6th place in the GC of Tour du Pays de Vaud (N.Cup)
9th place in the GC of Grand Prix Ruëbliland (N.Cup)
24th place at the World Championships Richmond 2015
Your cycling heroes?
Fabian Cancellara and Oscar Freire.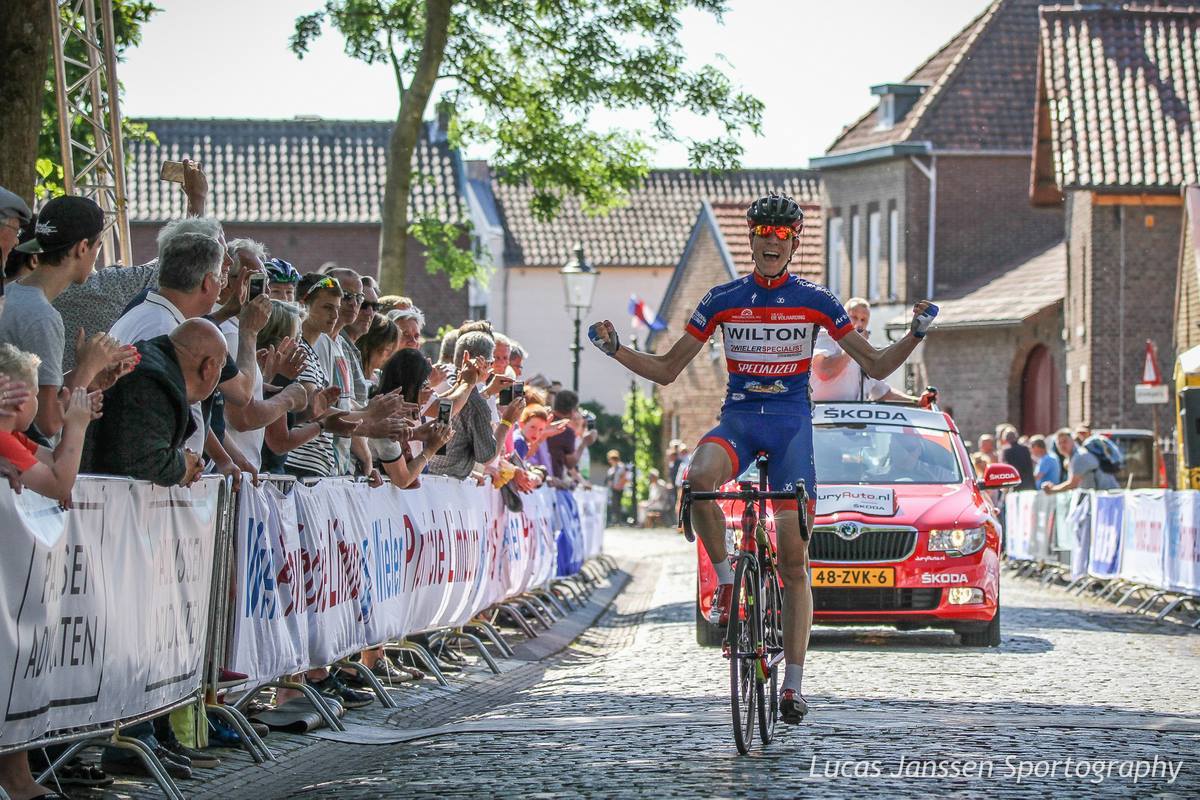 Your favourite training route/coffee stop?
I live near Amsterdam so there are stopping lights everywhere, so my favorite training route is "Haarlemmermeer Round". There are just 5 stopping lights in 60 km, so I can keep riding. I don't do a lot of coffee stops because most of the time I train alone, then I just keep on riding.
What music do you like?
Uh, I listen a lot of music. I like the top 40 and some dutch rap.
Tell us something we don't know about you?
I don't like early mornings ;p
Hopes and plans for the future?
The one big goal is to become a pro-cyclist. Furthermore I hope to ride a good season as second year junior and then make the step up to a good U23 Team.