a conversation with james curry
The Cycle Sierra Nevada Scholarship Program was developed as a way to sponsor young cyclists that may not have opportunity or financial capacity to avail of a cycling training camp. In this section we take 5 minutes for a quick chat with one of the applicants selected for the 2016 program.
James Curry - northern ireland
Who are you?
I am James Curry I am 17 years old turning 18 in December this year.
What team do you ride for?
I currently ride for my local cycling club Banbridge. My sponsor is a local bike shop, Lakeland Bikes, without their help it would makes things a lot more difficult.
Why did you start cycling?
I started cycling because my father was always a keen cyclist racing open road races. I then wanted to follow and do what he did. I started cycling when I was 7 years old. I never really raced competitively until I was 12 years of age.
Have you any other sporting backgrounds?
I played rugby before I started cycling. This game then got too rough as I started getting older. I didn't have the build to be a rugby player so I opted to completely focus on cycling.
What types of cycling do you do and what do you enjoy about each?
I do all 3 disciplines specialising in MTB. I do cyclocross in the off season for a bit of fun and will contest the National Cyclocross Champs in January. I also do road during the MTB season and pick and choose which races I want to do. I take all 3 competitively and enjoy all aspects of them. They are all very different and that's why I do them all.
How many bikes do you own?
I own 4 bikes 1 XC MTB, 2 road bikes and one cyclocross bike.
Favourite piece of cycling equipment/kit?:
My favourite piece of cycling kit is my Oakley sunglasses. I hate riding my bike without glasses. There is nothing worse than getting a fly in the eye.
Your greatest achievements on a bicycle?
My greatest achievements on a bicycle in 2015 was becoming Irish National Junior Cyclocross champion in January of 2015. During the summer of 2015 I also became Irish National Junior MTB XC champion. To top this of I represented Ireland at the 2015 World MTB XC championships in Vallnord Andorra.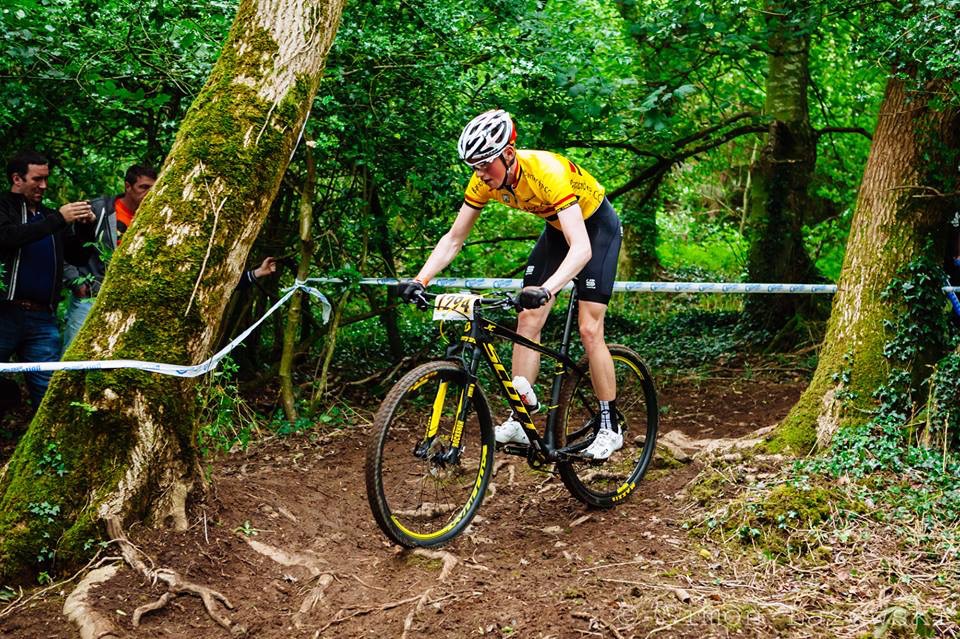 Your cycling heroes?
I have a few cycling heroes the main two being Nino Schurter and Andy Schleck. Nino is my favourite cross country MTB rider his style and hard work is second to none and I want to strive to be like him. I love Andy for his climbing abilities I used to watch him on TV when I was younger and always wanted to be like him. He is a great team player and had great sportsmanship.
Your favourite training route/coffee stop?
My favourite training route always involves climbing. I live on the foot of the Mourne mountains, this suits me perfectly. We head straight for the hills and descend down to the coast. We then ride along the coast to arrive at my favourite coffee shop Niki´s. They do great coffee and their buns are fab.
What music do you like?
I like most music on the charts. I like the new Adele song Hello. Music keeps me motivated while training.
Tell us something we don't know about you?
I like having up to date clothes. I hate walking around in an old pair of trainers or an old hoody. It looks bad. I like to look descent.
Hopes and plans for the future?
My plan for the future is to get onto a professional cycling team either road or MTB based. I would take either I love both. I would love to complete at another World and European Championships too.