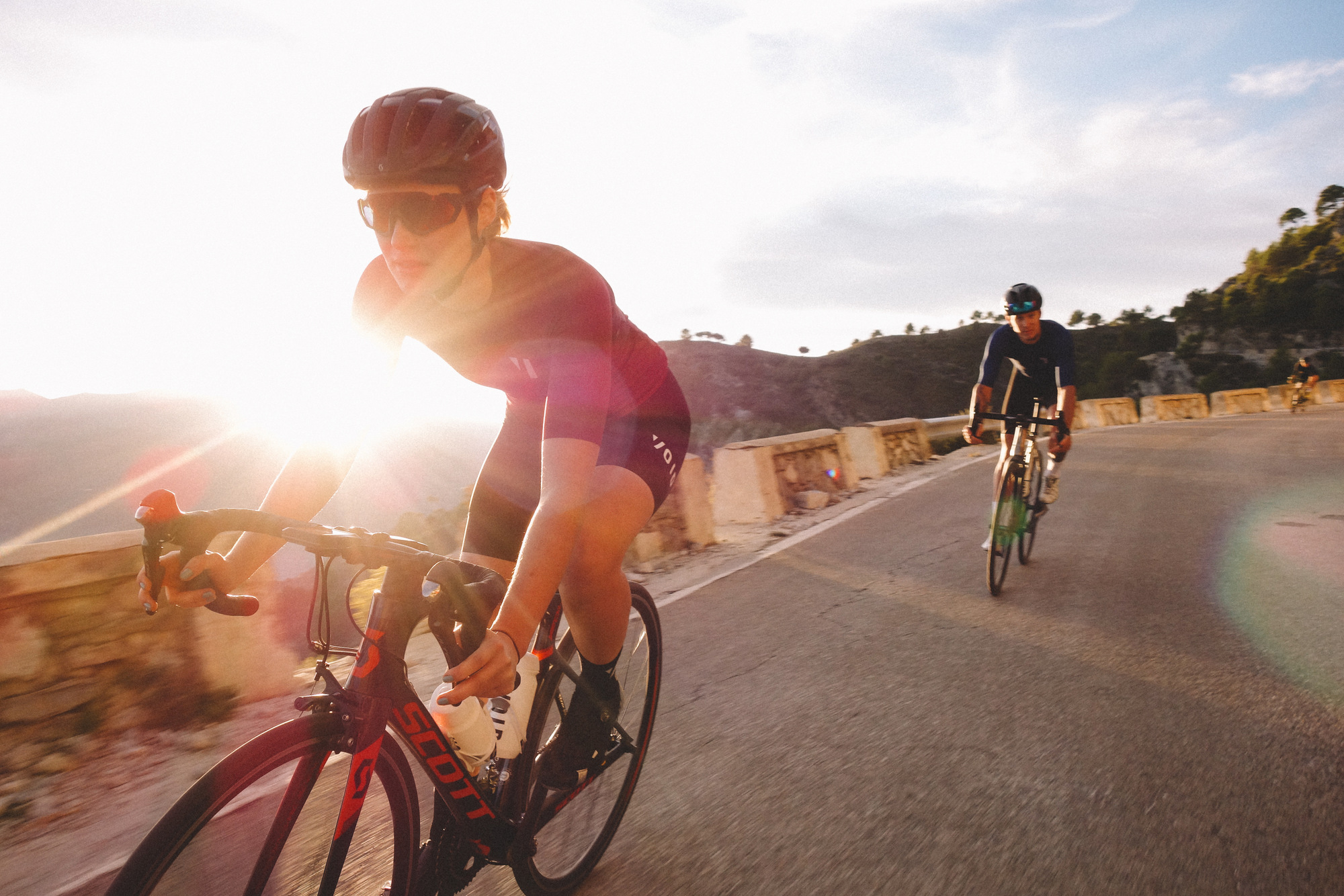 Autumn/fall Cycling holidays
OK, summer may have been a washout, but the good news is that September and October are wonderful times to take a cycling holiday with us in Andalucia, southern Spain – temperatures drop off considerably from the hot summer months to more agreeable temperatures typically around mid-to-high-twenties - perfect conditions for long days in the saddle!
September and October are almost certain to be cold, wet, grey and miserable in much of northern Europe and north America, but for those wanting to get away from it all and go somewhere to enjoy a fantastic cycling holiday then we've got the perfect destination in Andalucia for an autumn cycling break.
Autumn Cycling Holidays - Training Camp Dates - 2019
September cycling dates
Week 36 - 31 to 07 September 2019 - €550 pps

Week 37 - 07 to 14 September 2019 - €550 pps

Week 38 - 14 to 21 September 2019 - €550 pps

Week 39 - 21 to 28 September 2019 - €550 pps
October cycling dates
Week 40 - 28 to 05 October 2019 - €550 pps

Week 41 - 05 to 12 October 2019 - €550 pps

Week 42 - 12 to 19 October 2019 - €550 pps

Week 43 - 19 to 26 October 2019 - €550 pps

Week 44 - 26 to 02 November 2019 Cycling and Yoga Week
Per Person Sharing is based on a party of two sharing a twin room - Single Supplement is an additional €100 per person
Please note if the dates above are not suitable for you we will be happy to try to accommodate you on those dates that suit you best.
The Location
We´re based in the typical Andalusian village of Velez de Benaudalla, which is situated between the mountains of the Sierra Nevada and the Costa Tropical. The area is blessed with almost perfect weather for the vast majority of the year. October is perhaps the perfect time to travel to this part of the world, with temperatures of around 25 degrees Celsius in the day dropping to a very pleasant 12 degrees at night. There is no issue with humidity at this time of the year, you can expect eight hours of sunshine and on a week´s cycling break you've got a pretty good chance of not seeing any rain at all.
The beautiful city of Granada is only a short journey north of our village. Where you can visit the many historical sites, including the Alhambra Palace, explore the city on a walking tour, or take it easy and relax at man y of the outdoor cafes. Autumn is an ideal time to visit, with bright, cooler sunny days and the crowds of tourists from the summer have largely dissipated.
For cycling, the area boasts lots of traffic free, quiet, country roads, making it a perfect destination for your cycling holiday or training camp. It´s an area used in the by the likes of Dan Martin and Michal Kwiatkowski for their early season spring training camps.
Typical Itinerary:
Saturday: Arrival, build bikes, short spin to test the bikes, dinner and then relax after a long day of traveling .

Sunday: Introduction to Spain! Light spin for 2 to 3 hours and an optional longer route of 3.5 to 4 hours.

Monday: Medium spin, 3 to 4 hours or an optional longer route of 4.5 hours. Afternoon and evening free to explore the village and relax.

Tuesday: Long day in the saddle, 5 to 6 hours, with a possible trip to Spain's highest village, Trevelez.

Wednesday: Rest day with optional light coffee spin to the beach. Possible evening trip to the historical city of Granada or alternatively a day on the beach.

Thursday: Medium day of 3 to 4 hours cycling in some spectacular scenery.

Friday: Will be another long day in the saddle to test those legs over some grueling climbs, 4 to 5 hours, aim to be back by 4pm and stretch straight off the bike. Pack the bikes. Prearranged meal in local restaurant.

Saturday: Breakfast, goodbyes, transfers to airport.
Please note, the area where we are based is quite mountainous and you will be expected to tackle long and arduous climbs each day. Please refer to the FAQ section or contact us if you´re concerned about whether you are suitable to participate in one of our cycling holidays.
What´s Included:
7 nights accommodation in self-catering apartment

Fully guided routes each day

Full access to gym and sauna facilities

5 daily printouts of the next days ride and profile

Secure bike storage

Access to our bike workshop
What´s not included:
Bike rental

Flights

Personal insurance

Lunch and evening meals

Single room supplement
Other Information
Please click here for further information regarding our cycling training camps.
Your Health and safety are paramount to us, however, please note TRAVEL INSURANCE IS MANDATORY. Please ensure you are covered for cycling, accidental damage to bike and personal medical . Check out sportcoverdirect.com for your insurance cover.